IRIS, LOW LEAK, ZERO LEAK AND SPECIALTY DAMPERS
The EnviTec Iris damper is a brilliantly simple solution for fast and exact measurement, balance and control of airflow. It is ideal for supply and exhaust tracking control, individual comfort control, and any space requiring accurate airflow regulation. Applications for the IRIS damper include office buildings, pharmaceuticals, clean room environments and laboratories.

Designed for applications that require ventilation isolation EnviTec's TRID series isolation dampers offer very low leakage rates or true "Bubble Tight" zero leakage and are available in either manual or motorized versions. Every zero leakage damper is manufactured according to USA ANSI/ASME AG1 (Code on Nuclear Air and Gas Treatment) and tested according to ANSI/ASME 510 and ANSI/ASME 509.

EnviTec also manufactures specialty dampers that meet the requirements of virtually any application in clean rooms, laboratories and healthcare facilities.
Applications
Iris Dampers
EnviTec's ETIR series iris damper unique design allows for airflow to be measured and controlled at a single station. It is a cost effective alternative to VAV boxes and venturi valves in many applications.
Low Leak Dampers
The EnviTec TRID 15 low leak damper is a cost effective solution for critical areas that require ventilation isolation without true zero leakage.
Biosafety Level 2 Labs
Pharmaceutical Plants

Animal Labs
Semi-Conductor
Zero Leak "Bubble Tight" Dampers
The EnviTec TRID 20 zero leak "bubble tight" damper is the premium device to use for ventilation isolation where absolute zero leakage is required.
Biosafety Level 3 Labs
Pharmaceutical Plants
Nuclear Power Plants

Biosafety Level 4 Labs
Bag-in/Bag-out Containment Housings
Military Facilities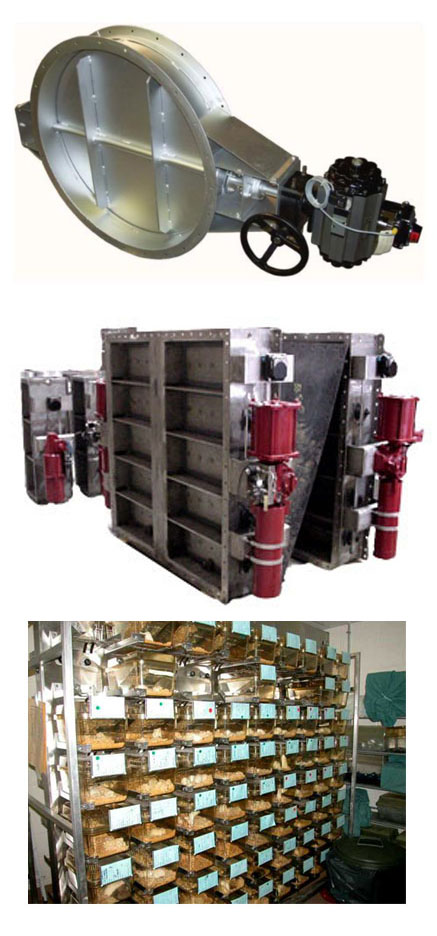 FEATURES
IRIS DAMPERS
Precise Airflow Measurement
Accurate Air Balancing to +/- 5%
Single Station Measurement and Control
Reduced Field Labor Time
Compact Design, Superior Performance
Fully Retractable Blades for Duct Cleaning
Available in an Assortment of Sizes for a Broad Range of Airflow Measurement Requirements
LOW LEAK DAMPERS
Manufactured According to ANSI/ASME AG1
Leakage Testing to 0.0025 SCFM per Square Inch of Surface Area at 10" WG.
Leakage Testing Aaccording to AMCA Standard 500 Using Test Apparatus Figure 5.5.
Performance Testing According to AMCA Standard 500 Using Test Apparatus Figure 5.3.
ZERO LEAK "BUBBLE TIGHT" DAMPERS
Individual Housing Leakage Testing to Leakage Rate of .009 SCFM Per Inch of Perimeter.
Zero Leakage (Bubble Tight) at 10" WG.
Manufactured According to USA ANSI/ASME AG1 (Code on Nuclear Air and Gas Treatment) Under a Quality Assurance Program that Address all Requirements of ANSI/ASME NQA-1 (Quality Assurance Requirements for Nuclear Facility Applications)
Testing According to ANSI/ASME 510 (Testing of Nuclear Air Treatment Systems) and ANSI/ASME 509 (Nuclear Power Plant Air-Cleaning Units and Components).
Every Damper is Provided with Two Leak Test Certificates (Pressure Decay and Bubble Leak).