HEPA, ULPA AND PARTICULATE FILTER HOUSINGS
EnviTec manufactures a complete line of HEPA, ULPA and particulate filter housings ranging from simple in-duct holding frames to roof mounted housings. Units are available in various sizes and configurations.

EnviTec's ENVISURE™ series HEPA and ULPA housings are designed to provide zero air bypass. Materials of construction include aluminized steel and stainless steel. EnviTec's ENVICLEAN™ series particulate filter housings are available in a variety of types and configurations. They are manufactured from 16 gauge aluminized steel and are completely factory assembled. Options include lift-off doors, extruded tracks, stainless steel construction and many others.
Applications
EnviTec's ENVISURE™ and ENVICLEAN™ filter housings are used to filter and clean fresh, return and exhaust air in a variety of applications as follows:
Clean Room/Laboratory/Healthcare
ENVISURE™ systems are used to remove biological agents and other particulates from supply and/or exhaust air ensuring protection to the public, patients, staff and sensitive equipment.
Industrial
ENVISURE™ and ENVICLEAN™ systems are used in various industrial facilities where clean air is required to prevent contamination resulting in high product quality.
Pharmaceutical Plants
Food Processing

Electronics
Semi-Conductor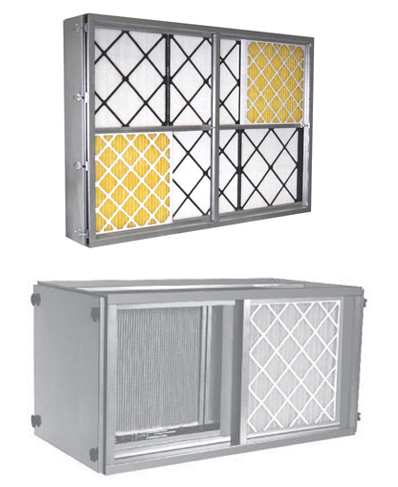 FEATURES
Front or Side Access Fully Encloses and Supports the Filters (Side Access Doors on Both Sides)
Various 2" or 4" Pre-Filters Available
6" or 12" HEPA or ULPA Filters Available
In-Duct, V-Bank or Horizontal Configuration
Completely Factory Assembled and Tested
16 Gauge Aluminized Steel Construction, 304 or 316 stainless steel optional
Modular Construction
ENVISURE™ Series Includes Locking Mechanism with 600 Ft. Lbs. of Pressure Per Filter Cell
Options Include:

Insulation
Double Wall Construction
Insulation
Weatherproofing
High Pressure
Flange Adapters
Support Legs
Hanger Brackets
Static Taps
DOP Test Ports (ENVISURE™ Series)