ADSORPTION WATER FILTRATION SYSTEMS
Among the various treatment options available for arsenic and heavy metal reduction, few are simple, proven, affordable, and reliable as the selective adsorption treatment technology offered by EnviTec Corporation. The EnviTec system is a pre-engineered, packaged water treatment system designed for removal of arsenic and heavy metals from various water sources using a specialty formulated EVT 33 ferric oxide adsorption media.

It is more imperative than ever to have a treatment process capable of effectively removing arsenic from drinking water. EnviTec's adsorption media is specifically designed for the removal of arsenic from drinking water and non-drinking water sources. When water from a source is pumped through a vessel containing EnviTec's adsorption media, it passes through a fixed bed of the media where arsenic is adsorbed quickly and selectively. The media is nanoparticular α-FeOOH with a very high surface area and high adsorption capacity. At the same time, the granules are stable to the stream of water. Both anions As(V) and As(III) are adsorbed on the iron oxihydroxide via a surface complex. The EnviTec EVT 33 media is approval by the Drinking Water Inspectorate (DWI) in the UK according to Reg. 31, and is NSF certified (Standard 61) in the USA.


Principle of Operation
EVT 33 media is filled into the adsorption vessels from sacks by gravity or by hydraulic eduction. The exhausted media is non-hazardous and can be sent to a landill, passing TCLP or landfill leaching requirements. Spent media can be removed hydraulically or by vacuum.
Typical Single Bed Process & Instrumentation Diagram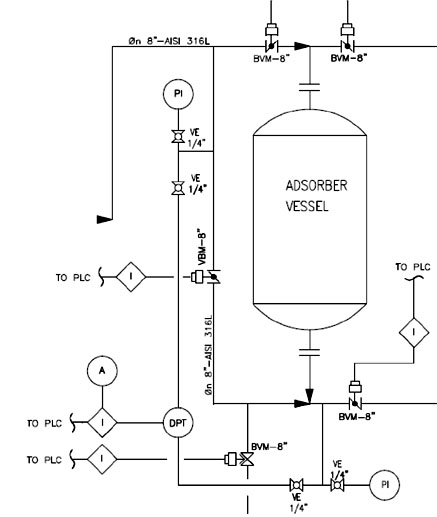 FEATURES
Single Or Double Stage Systems
Internal Rubber Lining
Fully Automated Backwash
Flows Up To 1,000 GPM (63 l/s) for Single units
Larger Flows Available With Parallel Unit Systems
No Plugging
Low Pressure Drop
Built to ASME Code
Removes Arsenic, Antimony, Cadmium, Chromium, Lead, Selinium And Molybdenum
Dry Robust Media
Small Footprint
Minimal Maintenance
Easy To Install And Operate