PROCESS FANS
EnviTec serves the industrial fan market with a complete line of centrifugal industrial fans and industrial blowers. We understand the rigorous requirements particular to industrial air movement applications. The fans we produce are designed and built for users who value quality craftsmanship and reliable performance. The EnviTec standard product offering includes backward inclined, industrial exhauster, radially tipped, and high pressure/turbo series fans.

Nonstandard products are available to be customized to meet the specific needs of the application. It is EnviTec's goal to provide a fan that best satisfies the various needs our customers face. In fabricating our fans, we are mindful of the rigorous requirements in the industrial environment. Fabrication materials and techniques are selected to provide a solid operating platform. Each wheel is dynamically balanced to ensure smooth, vibration free operation and the entire rotating group is specified for a long life of trouble free service.

Our specialty is on high temperature and pressure, corrosive and abrasive and explosive gas applications.

EnviTec also offers a complete list of fan accessories to provide a total package.

EnviTec EVTF Gas Turbine Filters
Backward Inclined (BI) Series:
Used for relatively clean air applications with little or no particulate in the air-stream.
Industrial Exhauster (IE) Series:
Used for material handling, pressure blower, process gas, and many other industrial applications.
Industrial Radial Open (IRO/IRS) Series:
The open type radial bladed paddle wheel design is an ideal selection for material conveying applications due to its heavy duty rugged construction.
Industrial Radial Wool (IRW) Series:
The back plated radial bladed paddle wheel design is the ideal selection for stringy type material where there is the possibility of material build up in the fan.
Industrial Radial Tip (IRT) Series:
The radial tipped wheel design is the most efficient selection in the industrial exhauster series of fans.
Radially Tipped (RT) Series:
The major usage for this product is in process fan applications. The advantage of the fan is the ability to handle a high volume of air and yet be able to generate higher pressures than most clean air fans.
High Pressure (TRO) Series:
The major usages for these products are in the scrubber industry, pneumatic conveying, fluidized beds, and vacuum systems to name a few.
High Temperature (THO) Series:
Used in gas/air applications with temperatures of 200°F/93°C to 1000°F/538°C.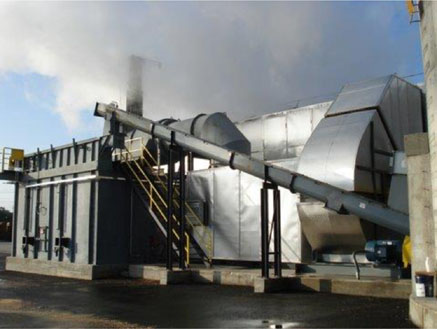 FEATURES
AMCA Certified Performance
Flows up to 220,000 cfm (104,000 l/s)
Complete Line of Process Fans
Various Materials of Construction, Including Coated Steel, Hardened Steel, Stainless Steel, FRP, Hastelloy, as Well as Many Others
Various Coatings and Colors
High Pressure Fans up to 66" WG (16,500 pa)
High Temperature Fans up to 1000oF/538oC
Spark Proof Fans
Explosion Proof Motors and Sensors
Selection Software
Numerous Options Including:

Flexible Connections
Screens
Inlet Box
Inlet Transitions
Outlet Transitions
Insulation – Acoustic or temperature resistant
Weather Hoods
Silencers
Unitary Support
Inertia Support
Vibration Isolators
Lubrication Provisions
Bearing Sensors – Speed, Temperature and Vibration
Dampers
Shaft Cooler
Shaft Seals
Speed Switches